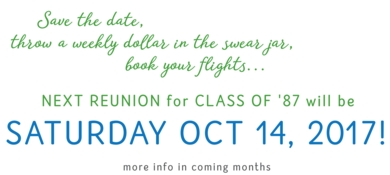 Welcome,
New Trier Class of '87
Find your name in the list of classmates to register, and provide your email address so that you can receive class announcements (promise: no SPAM.) You can choose to only receive email from classmates through this site and keep your email address secret (I won't be giving them out), or you can additionally add your email address to your profile page so that classmates may contact you directly.
Only members of the site will see your profile info unless you choose otherwise. Only NT classmates can be members of this site.
Please pass this url to classmates! As we plan for the next reunion, it'd be great to fill in a bunch more of our missing classmates.
And besides reunions and staying connected, this spot is also for classmate announcements, so let me know if you have news to share by hitting the Post Announcement on the left, or the Contact Us above.
Again, welcome!
Karen Backe, site creator/admin