In Memoriam
Brett Paul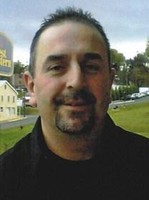 Brett Douglas Paul, resident of Stafford passed away November 9, 2011 at the age of 42, at Mary Washington Hospital, after a brief illness.

Brett was born on January 4, 1969 in Covington, KY. As a member of a military family he lived in California, Virginia, North Carolina and Chicago, Ill. He attended North Stafford High School, Camp LeJuene High School, and graduated from New Trier High School, in Winnetka, IL, in 1987. Moving back to Virginia in 1988, he attended Northern Virginia Community College. Most of his adult life he was employed as a plumber; the past six years with F.H. Furr.

Brett is survived by his beloved wife Leonor Paul Guardado. He was cherished by his four children Jordan Paul, Lauren Paul, Danielle Paul, Jon Webb and his two step-children Luis Guardado and Karla Guardado, his devoted parents, Sharon Paul and Terry Paul, step-mother Vinetta Paul, and his much-loved grandmother Myrtle Prewitt, his loving siblings Lisa Paul Messerschmidt, Hagyn Paul, James Paul, and his brother-in-law Jim Messerschmidt, his dearly loved nieces Michelle, Cecilia, and Jamie Messerschmidt and countless other family and friends who were blessed to know him.

Brett loved playing his guitar and singing, laughing with his family and having fun with friends. Brett touched many lives with his sense of humor.

Friends and family are invited to attend the service on Friday, November 18 "A Time of Remembrance" from 6-7 pm at Mullins and Thompson Funeral Service, Stafford Chapel, where a memorial service will begin at 7:00 pm. A "Celebration of Brett's life" will follow the service at 73 Kinross Drive, Stafford, VA.