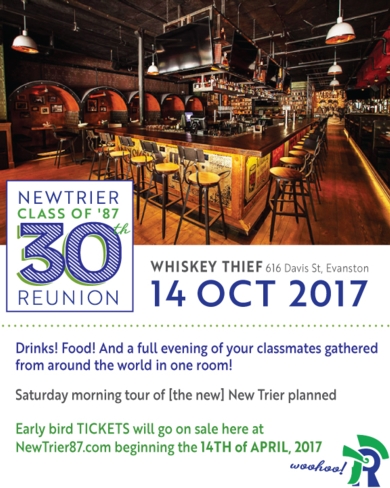 Welcome,
New Trier Class of '87!
Yes! a few of your devoted classmates have set up a web site for our class!*
Find your name in the list of classmates to register, and provide your email address so that you can receive class announcements (promise: no SPAM.) You can choose to only receive email from classmates through this site, keeping your email address secret, or you can add your email address to your profile page so that classmates may contact you directly.
Only members of the site will see your profile info unless you choose otherwise. Only NT classmates can be members of this site.
Please pass this url to classmates! First and foremost, this site serves as our class directory. If you know the whereabouts of any missing classmates, please click the Contact Us or In Memoriam links above.
And besides reunions and staying connected, this spot is also for classmate announcements, so if you have news to share, hit the Post Announcement on the left, or the Contact Us above. Questions or comments? Contact us link! In the meantime as the next reunion approaches, some other features will be added/activated in coming weeks and months.
Again, welcome!

* big thanks to Karrie Kelley for finding this web host! to Noelle Lange Davidson for inputting everyone's name into the system! to Mike Myers for helping with costs! And Karen Backe for all the rest -- just like MaryAnn and the Professor in that theme song.